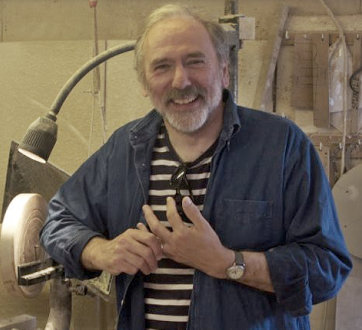 My name is Hugh Leishman, I live in West Yorkshire. I'm a self-employed craftsman and I have a small woodturning and woodcarving workshop. I make bowls, dishes, spoons, chopping boards, bakers peels and other wooden objects that are designed to be used. I work mainly in British hardwoods and I finish my work with "food-safe" oils.
Everything begins with the material.I love working with wood; it's a great material and it has an amazing history and tradition. My work is made to be handled and touched and I hope the objects I make, will, in time, develop a patina through use. I design forms that don't overpower the innate qualities of the wood,but allow it to speak with its own voice.I strive for form, balance, proportion, lightness and simplicity.
I try not to get bogged down with too much theory - I want to make objects that people feel a connection with.
In the last couple of years I have supplied work to among others:
David Mellor Design Ltd,
Bettys of Harrogate,
I supply work to Grace Whowell at Beyond Measure.

Over the years I've sold my work at many different craft fairs and shows in the North. I also sell work through the internet and word of mouth.
Recently my interest in Scandinavian woodcarving techniques has led to running workshops for Artison in Masham and Hawksbys in Howarth.
At present I'm developing carved elements within my work. I really enjoying working this way.